Internt Censorship and the New World Order
W
ithin the last couple of years several Internet Censorship bills have been introduced and many passed among different countries around the world. Some culturally strict countries set up rules early that ban certain media sites and other Internet content within the country. The last Internet Censorship bill introduced in the United States was on October 1st 2010 by Senator Patrick Leahy is. He also voted to fund imperial wars, regressive Obamacare, Wall Street-friendly financial reform, and other pro-business measures, including agribusiness-empowering bills, harming small farmers and consumers.
Take Note: The site Wikileaks.org has been down for several weeks.
Now Leahy is proposing an Internet censorship bill. On September 20 ( 9+2=11), he introduced S. 3804: Combating Online Infringement and Counterfeits Act (COICA), "A bill to combat online infringement, and for other purposes."
Two online blacklists will be created:
The bill doesn't mandate, but "strongly suggests" that second category domains be blocked "as well as providing legal immunity for Internet intermediaries and DNS operators" that do it willingly at the behest of authorities. Without question, "tremendous pressure" will be applied to comply, the alternative perhaps being recrimination for refusing.
Web sites the Attorney General may choose to censor or block. And, most disturbing, domain names the Justice Department decides (without judicial review) are "dedicated to infringing activities.
Though fairly short, COICA may dangerously impair free expression, "current Internet architecture, copyright doctrine, foreign policy," and more. In 2010, "efforts to re-write copyright law targeting 'piracy' online" have been shown "to have unintended consequences."
Like other 2009 and 2010 bills, COICA "is a censorship bill that runs roughshod over freedom of speech on the Internet," an outrageous First Amendment violation by "trying to define a site 'dedicated to infringing activities,' by blocking a whole domain," not that one part alone if legally proved, rather than by government edict.
The 1998 Digital Millennium Copyright Act (DMCA) "already gives copyright owners legal tools to remove infringing material piece-by-piece." It also lets them get injunctions requiring ISPs block infringing offshore sites. Misusing these provisions "have had a tremendously damaging impact on fair use and free expression."
If enacted, Leahy's COICA will take a giant leap, "streamlining and vastly expand(ing)" existing damage. It'll let the Attorney General shut down domains, including their "blog posts, images, backups, and files." As a result, "legitimate, protected speech will be taken down in the name of copyright enforcement," and basic Internet infrastructure will be undermined.
Last April a long looming Internet Censorship bill passed the house of commons in the UK allowing the government powers to restrict and filter websites that is considered damaging for public consumption, or course vulnerable to definition.
Under clause 11 of the proposed legislation "technical obligation" is defined as follows:
A "technical obligation", in relation to an internet service provider, is an obligation for the provider to take a technical measure against particular subscribers to its service.
A "technical measure" is a measure that…
Limits the speed or other capacity of the service provided to a subscriber
Prevents a subscriber from using the service to gain access to particular material, or limits such use
Suspends the service provided to a subscriber; or (d) limits the service provided to a subscriber in another way
In other words, the government will have the power to force ISPs to downgrade and even block your internet access to certain websites or altogether if it wishes.
Merriam-Webster defines a police state as follows:
A political unit characterized by repressive government control of political, economic, and social life usually by an arbitrary exercise of power by police and especially secret police in place of regular operation of administrative and judicial organs of the government according to publicly known legal procedures."
In other words: overt and covert hardline control, maintained by loss of personal freedoms, civil liberties, and constitutional protections though legislation, pervasive surveillance, lawless privacy intrusions, and midnight or pre-dawn arrests on whatever grounds authorities charge against which there's no defense.
The ultimate goal is to create an internet-paradigm that corresponds to the corporate mainstream model, devoid of imagination or divergent points of view. They envision an internet that is increasingly restricted by the gluttonous influence of industry and its vast "tapestry of lies". The internet is the modern-day marketplace of ideas, an invaluable resource for human curiosity and organized resistance. It provides a direct link between the explosive power of ideas and engaged citizen involvement. (aka; participatory democracy)
The New World Oder manipulators are laying the groundwork for privatizing the internet so the information-revolution can be transformed into an information-tyranny, extending to all areas of communications and serving the exclusive interests of a few well-heeled plutocrats.
Controlling dynamics will be presented and enacted by the world governments as the word draws near to the Activation of the New World Order. The western world experiences continual surveillance and undue security. Internet Censorship must be passed into law for the New World Order to trap the deluded successfully into their enslavement.
Iran clamps down on internet use
Restrictions on cybercafes and plans to launch national internet prompt fears users could be cut off from world wide web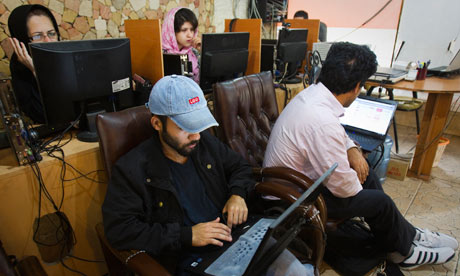 Tests for a countrywide network aimed at substituting services run through the world wide web have been carried out by Iran's ministry of information and communication technology, according to a newspaper report. The move has prompted fears among its online community that Iran intends to withdraw from the global internet.
The police this week imposed tighter regulations on internet cafes. Cafe owners have been given a two-week ultimatum to adopt rules requiring them to check the identity cards of their customers before providing services.
"Internet cafes are required to write down the forename, surname, name of the father, national identification number, postcode and telephone number of each customer," said an Iranian police statement, according to the news website Tabnak.
"Besides the personal information, they must maintain other information of the customer such as the date and the time of using the internet and the IP address, and the addresses of the websites visited. They should keep these informations for each individuals for at least six months."
In recent weeks, users in Iran have complained of a significant reduction in internet speed, reported the reformist newspaper, Roozegar, which has recently resumed publication after months of closure. The newspaper said it appeared to be the result of testing the national internet.
"According to some of the people in charge of the communication industry, attempts to launch a national internet network are the cause of disruption in internet and its speed reduction in recent weeks," Roozegar reported.
Some government websites, however, cited other reasons for the drop in speed.
"If the national internet comes into effect, the internet in the country will act like an internal network and therefore visiting the websites needs permission from the people in charge. Users outside Iran also need permission to visit websites running from inside the country," Roozegar's report said.
Speaking to the Guardian on condition of anonymity, an Iranian IT expert with close knowledge of the national internet project, which he described as a corporate-style intranet, said: "Despite what others think, intranet is not primarily aimed at curbing the global internet but Iran is creating it to secure its own military, banking and sensitive data from the outside world.
"Iran has fears of an outside cyber-attack like that of the Stuxnet, and is trying to protect its sensitive data from being accessible on the world wide web."
"At the same time, Iran is working on software robots to analyse exchanging emails and chats, attempting to find more effective ways of controlling user's online activities," said the expert.
A blogger in Tehran said recent news was of significant concern to the country's online community. "I'm addicted to the internet and can't imagine a day without the global internet," said the blogger. "But Iranians have always found ways to bypass the regime's censorship, for example by using illegal satellite dishes to watch banned television channels, and I'm sure in the 21st century we should be able to find alternatives should they opt to pull out of the world wide web."
The authorities have said for some years that Iran should have a parallel network which would conform to Islamic values and provide "appropriate" services. In April, a senior official, Ali Agha-Mohammadi announced government plans to launch "halal internet".
For Iranian officials, the need for such a network became more evident after the disputed presidential elections in 2009, when many protesters used social networks.
Less than two months before the parliamentary elections,- Iran's first national election since 2009, the regime warned against any online efforts to organise a boycott of the vote and said they would be considered a crime. Iran's bloggers have been prohibited from publishing any satirical materials about the elections or encouraging others to participate in a boycott.